Today is Monday, May 16, 2005. It's the day before my 40th birthday and the 12th anniversary for myself and my partner George. It's a very strange time for me right now and it isn't easy for me to put into words my thoughts on all of it - so , for now , I won't.
Perhaps I'm still just fuzzy from last Saturday night, which consisted of guzzling back an ocean of booze from many different locations, all within walking distance.


The trio, myself and George, and our neighbor ( who goes by the name of T - he is in the air force and recently back from an extended stay in Iraq), took ourselves on a little "bar crawl" into Rehoboth Beach proper. We visited everywhere from The Blue Moon ( the area's largest and most popular gay bar)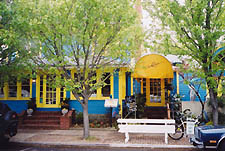 to Hooters ( T only agreed to go to the Blue Moon if I agreed to go to Hooter's ...ahem)
W
e also hit "Cloud Nine", Purple Parrot, Obie's By The Beach and more….
Needless to say - Sunday was very foggy indeed. And now - here tis, Monday - my anniversary and the day before my 40th birthday. 40 is indeed a "milestone"
but I'm not too strung up on it. I mean when you think about the alternative to aging……


It makes you positively chipper about your birthday.... Besides, I don't want to be one of those people who gets bogged down in age. I have a close friend now in his late 50's. Every time he has a few drinks in him, he starts down the "I am so old" path. It becomes
very
tedious.
Well, in closing I will leave you with this breathtaking Pre-Raphaelite
image by artist John William Waterhouse (1849-1917) entitled "La Belle Dame Sans Merci" -


My beautiful friend Mandy would have been an ideal Pre-Raphaelite model as the artists were particularly drawn to models with long flowing red hair.
One of the favorite models used by the Pre-Raphaelite painters was Elizabeth Siddal. She was the wife to Pre-Raphaelite painter and poet Dante Gabriel Rossetti who was obsessed with her by all accounts.
She was a beautiful and troubled woman. Mandy and I have always been told about a past life connection that we share. I just had a thought - perhaps in one of them, she was Elizabeth Siddal and I was a Pre-Rapheliate artist - perhaps even Rossetti himself…wouldn't that be something?
You can read more about Elizabeth Siddal here:
http://www.victorianartinbritain.co.uk/muses/siddal.htm
And see other images of her here:
http://www.geocities.com/Wellesley/7371/pictures_siddel.html