OK, I'm still on my vintage photo kick, so bear with me until I move onto other things. Did I mention that I threw my back out getting out of the car last Friday? It happens once in a while, the price paid when tall waisted. While I am 6 feet 5, it's all from the waist up. I wear a 33 inch inseam on my pants and often can get away with a 32, which, I don't think is that abnormal. In any event, people with that build throw their backs out more frequently than those who do not have such a build. Today is the first day that I have felt normal and not been walking about like a pretzel in mind-numbing pain. So, I'm very pleased about that!

Now, this is an odd image that was found in my magic box of abandoned photographs. The original is very small ( about the size of a matchbook) and is not mounted on cardboard. It's very sepia toned and because of it's small size and color it's very difficult to make out any detail. I scanned it at 350 DPI then adjusted levels in Photoshop to get this. It's a photo of an older girl with pigtails and a hat, a younger curl caught with a rather unfortunate expression, and a dog.

Initially, I was dating this image to date from between 1895 and 1910. But after further research, I came to the conclusion that this is more likely than not a very early Kodak Brownie Camera snapshot which would date it more so circa 1900 - 1910.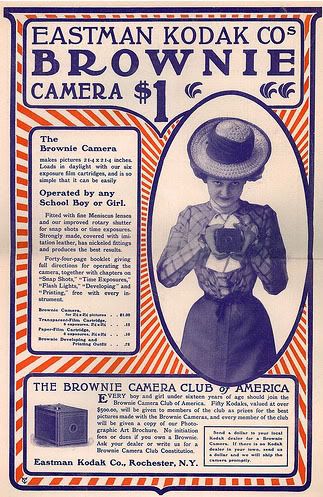 Kodak Brownie Ad from 1900

You can read more about the Brownie here, http://en.wikipedia.org/wiki/Brownie_camera, and every time you snap an image today with your cell phone or digital camera, you can thank the Brownie for introducing the populace to the idea of taking their own photographs quickly and easily.
Speaking of cameras and spinal pain, did you know that George Eastman, founder of the Kodak company suffered from Spinal Stenosis? An excerpt from wikipedia.com -
"In his final two years, Eastman was in intense pain, caused by a degenerative disorder affecting his spine. He had trouble standing and his walking became a slow shuffle. Today it might be diagnosed as spinal stenosis, a narrowing of the spinal canal caused by calcification in the vertebrae. Eastman grew depressed, as he had seen his mother spend the last two years of her life in a wheelchair from the same condition. On March 14, 1932, Eastman committed suicide.[7] He left a suicide note that read, "To my Friends, My work is done. Why wait?"[8] His funeral was held at St. Paul's Episcopal Church in Rochester. Eastman, who never married, was buried on the grounds of the company he founded at Kodak Park in Rochester, New York."
Gulp. Well, I'll have none of that. You can read more about his fascinating life here: http://en.wikipedia.org/wiki/George_Eastman